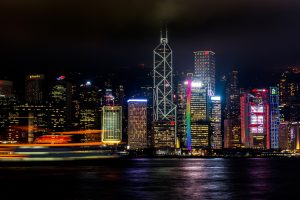 General information
Hong Kong, the Asia's World City.
In an intensely competitive city like Hong Kong, you can find the best of everything. Taste the best cuisines, from street food to fine dining at Michelin-starred restaurants, to the best thrills, greenery and inspiration the city has to offer. It is where contrast, variety, trendiness and excitement live side by side.
For information about Hong Kong, please visit the websites of the HKSAR Government or Hong Kong Tourism Board.
Immigration information
Participants are required to make their own visa applications and travel arrangements.  To check whether you need to apply for a visa to cover your visit, please visit the website of the Immigration Department of HKSAR.
Time Zone
Local Hong Kong time is GMT+8 hours.
Weather in November
The weather is warm and sunny with low humidity. The average low and high temperature is 19 °C (66 °F) and 24 °C (75 °F). Visitors are advised to bring a light jacket as some air-conditioned venues and public transport can be quite cool. You are advised to double check the latest weather conditions in Hong Kong prior to your arrival. You may visit Hong Kong Observatory and 7-day Hong Kong Weather Forecast for more weather information.
Arrival in Hong Kong
By Plane
About Hong Kong International Airport, please visit:
http://www.hongkongairport.com/eng/index.html
By Ferry/Train
Please visit the following link for details:
http://www.discoverhongkong.com/eng/plan-your-trip/traveller-info/transport/getting-here/index.jsp
Public Transport
Hong Kong has a highly developed and sophisticated transport network. For more information about the public transport system, please visit:
http://www.discoverhongkong.com/eng/plan-your-trip/traveller-info/transport/getting-around/index.jsp
Octopus Card
The Octopus card is a smart electronic money payment system which is widely used for public transportation (such as MTR, buses, trams, ferries and minibuses), and at retail outlets in Hong Kong. For more information, please refer to:
http://www.discoverhongkong.com/eng/plan-your-trip/traveller-info/transport/getting-around/octopus-card.jsp
Accommodation
There are more than 200 hotels with over 72,000 rooms in Hong Kong. Here are some suggestions of hotels on Hong Kong Island:
For more ideas, you may take a glance of the article about affordable hotels in Hong Kong at the following link:
http://www.hong-kong-hotels.ws/hotels/recommendations-budget-hotels.htm
You may read more at:
http://www.hong-kong-hotels.ws/
Useful Information